Registration
If you are interested in our services or event and wish to be contacted for more detail, please input student's information below.
Summer Program
What We Offer in IvyBoost's Summer Program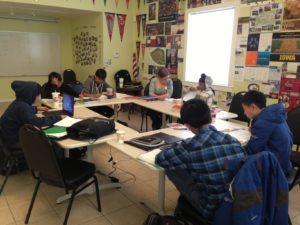 The IvyBoost Summer Program provides SubjectBoost, TestBoost and CollegeBoost from Mid June to Mid August.
The SubjectBoost program provides preview classes for high school subjects to boost your academic performance for the upcoming school year. Each course is designed to help you learn basic concepts and skills with purposes to build a solid foundation and identify problem areas before school begins.
The TestBoost program provides test preparation for the PSAT and the SAT with the goal to boost students' test performance. Each course is designed to jump-start the students for upcoming standardized testing.
The CollegeBoost program provides college planning and admissions counseling for students in grades 6-12. Summer is a critical time to start college planning for 6-11th graders, and college application for seniors.  With its advanced methodology, IvyBoost's college counseling programs boost our students' opportunity to get into their ideal colleges through the guidance of certified counselors in career planning and college admissions.
Quality Assurance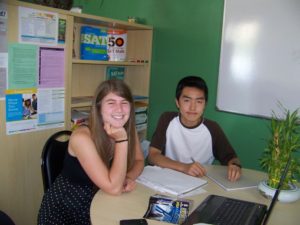 The classes are offered in small groups or in private to ensure quality learning. Our customized lesson plans encourage better absorption of materials.
All programs are created by a team of top-tier university graduates focusing on cultivating a positive attitude towards learning to increase your interest and to boost your confidence.
All textbooks and teaching materials are meticulously handpicked by our experienced instructors and with extensive backgrounds in education.
Homework and tests measure students' progress and achievement frequently so that families and students can see the efficiency of learning.
What Did Our Students Say About
"Prior to my classes at IvyBoost, my SAT score was being brought down by my lackluster SAT Writing score. With the help of Karen's in-depth SAT writing classes, in one month, I was able to bring up my Writing score from a mediocre 660 to a perfect 800. Her perfect teaching method combined with a lot of her practice tests allowed me to reach my target score!"     —Karthik K. – SAT Writing
"[My tutor was] fun, taught well, : ) "    –Patricia Y.- AP Chemistry
"Excellent tutoring that tailored to my weaknesses. Peaceful environment with refreshments readily available when needed."   —David S.- SAT Critical Reading/Writing
 "Amy is very helpful. My Science grade has gone up and I'm very happy. If I didn't understand something, she would take the time to go over it. It [IvyBoost] is good for students who are having trouble in school. The tutors are nice and helpful."  –Joyce Z.- Biology
"Mr. McNally has been a great tutor since I began coming to IvyBoost. He teaches in a way that is both entertaining and helpful in the subject."  —Michel N.- Geometry/Chemistry
"My tutor is good and makes my tutoring sessions fun."   —June L.- Essay Writing/Grammar I
"I liked the way Rebecca made learning useful and fun. The learning environment and tutors fit the tutoring subject."     —Jennifer G. -Essay Writing/Grammar I
"Joe taught me many ways of solving one problem and made sure that I know how to do each problem. I learned a lot from the summer course because there was only several students each class and improved greatly on my math."   —Courtney W. -Algebra I  
"Joe and Rebecca are all very smart tutors. I definitely made progress from them. I learned a lot from IvyBoost because they provide a good education to me."  —Christina Q. -Essay Writing/Grammar I & Pre-Algebra 
"The SAT classes were constructive and yet fun as well to keep our focus/attention. The tutors made sure to meet our individual needs which are rare to come by."  —Sam W. – SAT Total
"Joe was very knowledgeable and has told me many good tips about the SAT and how to approach it. He also pushed me to do my very best. Good place to be at, nice environment to do things in because it is pretty quiet."   —Alex C. – SAT Total